Apollo Maxx 5KVA
Advanced all in one solar inverter with parallel and three phase capability
Apollo Maxx is a powerful all in one solar inverter that integrates with multiple functions, including a high-performance true sine wave inverter, a powerful battery charger, a MPPT charge controller, a high-speed automatic transfer switch and two outputs for load management.
Apollo Maxx all in one solar inverter can be used in multiple applications. With a simple setting, you can compose a DC coupling system, power backup system or solar hybrid system. Its distinguishing surge capability makes it capable to power most of demanding appliances, such as fridge, freezer, water pump and air-conditioner, washing Machine etc.
With the function of power assist & power control, it can be used to work with a limited AC source such as generator or limited grid. Apollo Maxx can automatically adjust its charging current to protect the grid or the generator from overload. It can also work as the supplement source to the generator or grid once the temporary peak power appears.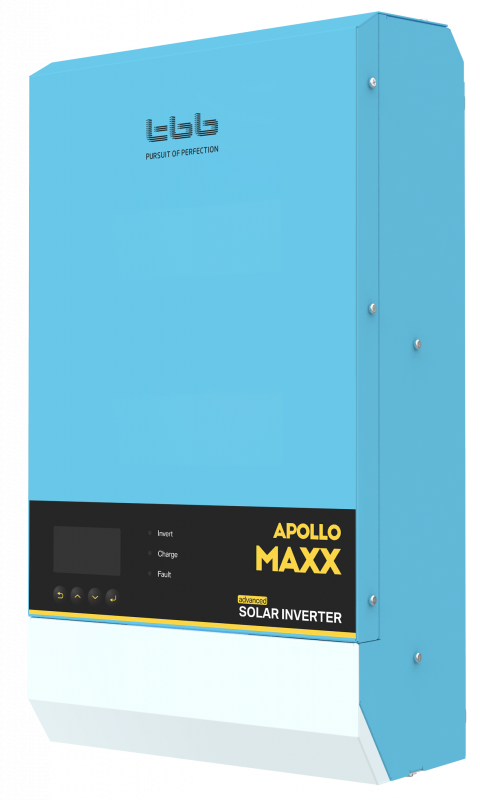 Auto Charge from Grid (when battery low)


DC and AC Breaker Embedded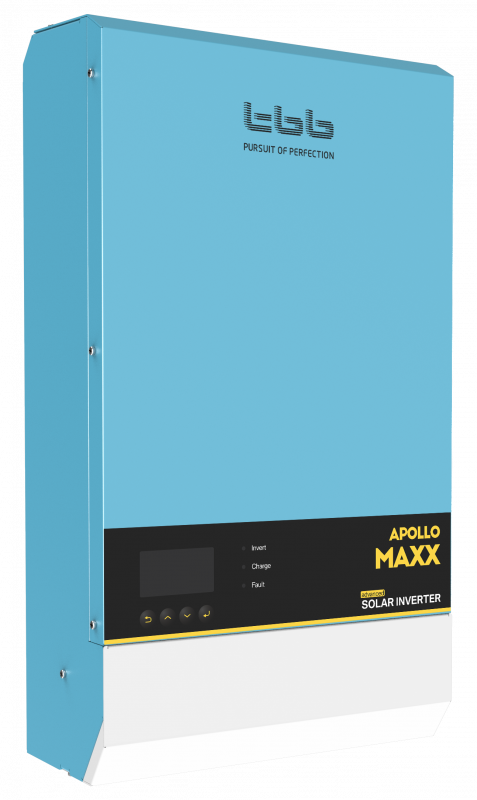 System Operation
Compatible with panels, batteries, grid, and Generators.
Able to communicate with battery BMS (Battery Management System).
Automatic switches.
Peak Power Watts 3s (10000)
UPS (Uninterrupted Power Supply) change overs.
Inbuilt MPPT charge controller.
Advanced DSP control technology.
Functionality
This is a multi-mode inverter that designed with 2 AC outputs allowing clients to separate essential loads from no essential, this meaning clients can separate the basics (Lights, Entertainment, etc. ) on AC Output 1 and on AC output 2 they can apply big loads such as (pumps, Motors, Microwave, washing machine, etc) which can be filtered on the display to come on at a certain Panels power and time period.
System Display
LCD setting display.
Panel input / battery input / grid input/ load % / Battery %
Battery options, LI
Parallel Connection to expand Inverter Size (Single Phase 3 x 5Kva (15Kva)) / (Three Phase 3 x 5Kva (10Kva))
System Monitoring
WIFI Monitoring (plug and play anytime anywhere).
Easy to use.
Remote Firmware updating for the inverter.
Free online monitoring via web or mobile app
About
Easy installation
Rated Power: 5KVA
Max PV Array: 6000W
Storage Temperature: -20 to 65 Degrees Celsius
Recommended Battery Types: CAPRI, Pylontech, Shoto,